What are the laws for hunting fox in Virginia? This article covers many of the fundamental laws you will need to know to get started. It also provides information such as seasons, harvest limits, and required permits for bobcat hunting in Virginia. It is not a legal document and is not intended to cover all hunting laws and regulations.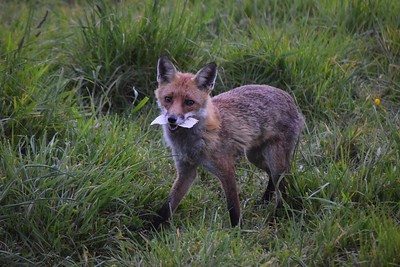 In Virginia, foxes may be hunted November 1 through February 28: Closed in Albemarle, Clarke, Culpeper, Fauquier (except Quantico), Loudoun, Louisa, and Rappahannock counties. No foxes may be taken outside of firearms season. A valid hunting license is required. There are no bag limits.
Purchase a Virginia hunting license here.
Check out all the Virginia hunting seasons.
First time hunting fox? Check out these articles:
Read: How to call in a fox.
Read: How to use tracks and scat to hunt a fox.
Related: Read the laws for hunting coyotes in Virginia.
Related: Read the rules for hunting bobcats in Virginia.
***Need to have your trophy mounted by an award winning, professional taxidermist? Then contact Wild Victory Taxidermy for more information.***
General regulations for hunting fox in Virginia.
Suppressors. When legally owned, they may be used for hunting.
Baiting. Allowed on private land and some public lands. There is a noted restriction: it is illegal to feed any wild animal when the feeding results in property damage, endangers people or wildlife, or creates a public health concern.
Related: Read this article to learn how to make the perfect bail pile.
Electronic callers. Legal for fox hunting. Electronic calls may be used to hunt bobcats, coyotes, crows, foxes and raccoons, but not other species. With the exception of crows, written permission of the landowner is required to hunt with electronic calls on private lands. Electronic calls may also be used on public lands (except where specifically prohibited) during periods when the use of firearms is allowed.
While electronic callers are expensive, mouth and hand callers are cheaper but harder to use.
Read this article and watch the video to learn how to use a closed reed rabbit squealer.
Follow along as call manufacturer Brian Rush shows you three open reed calls you can learn and use today.
You can check the price for an electronic caller on Amazon.
Related: You can read about some highly effective but inexpensive ($20) decoys here.
Night hunting fox in Virginia.
Lights, night vision, infrared, and thermal riflescopes. All are allowed on private land. Check for public land restrictions here before hunting coyotes at night.
Related: What is the best night vision scope for a new predator hunter?
Related: How does the ATN Thor 4 thermal riflescope perform in the field?
Related: Just getting started and want to hunt with a light? Here is the best color to use when hunting predators at night.
Night hunting. Nuisance species may be taken day or night.
Can I kill a fox on my property in Virginia.
If the season is closed, you may take a nuisance fox if you meet the following:
No Kill Permit required from VDGIF
Landowner may kill on his own land during closed season
You must contact the Commonwealth Attorney's office in your county/city for information regarding legal methods of animal removal. Local ordinances are usually more restrictive than state laws.
Nuisance fox may also be taken at night, where local laws permit.
Always check Virginia laws, your local game warden, or animal control officer for updates before proceeding.