Want to know the laws for hunting bobcats in Virginia? This article covers many of the fundamental laws you will need to know to get started. It also provides information such as seasons, harvest limits, and required permits for bobcat hunting in Virginia. It is not a legal document and is not intended to cover all hunting laws and regulations.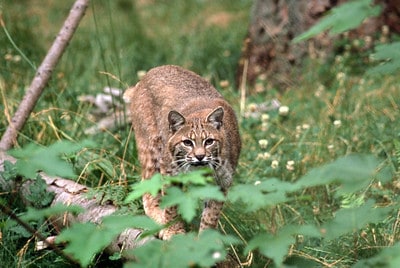 There are two bobcat seasons in Virginia: Archery (runs from Oct. 2 through 31: Statewide) and Firearms (Nov. 1 through Feb. 28: Statewide). The bag limit is 2 per hunting party taken between noon one day and noon the following day. Bobcats taken must be electronically reported within 24 hours.
An Archery license is required for that season. Purchase a Virginia hunting license here.
Check out all the Virginia hunting seasons.
If this is your first time hunting bobcats, please give these two articles a read.
How to read and age bobcat sign.
Three vital tips for a successful bobcat hunt.
Related: You can also hunt coyotes in this state. Learn the rules for hunting coyotes in Virginia.
Related: Learn the rules for hunting fox in Virginia.
***Need to have your trophy mounted by an award winning, professional taxidermist? Then contact Wild Victory Taxidermy for more information.***
General regulations for hunting bobcats in Virginia.
Suppressors. When legally owned, they may be used for hunting.
Baiting. Allowed on private land and some public lands. There is a noted restriction: it is illegal to feed any wild animal when the feeding results in property damage, endangers people or wildlife, or creates a public health concern.
Related: Read this article to learn how to make the perfect bail pile.
Electronic callers. Legal for bobcat hunting. Electronic calls may be used to hunt bobcats, coyotes, crows, foxes and raccoons, but not other species. With the exception of crows, written permission of the landowner is required to hunt with electronic calls on private lands. Electronic calls may also be used on public lands (except where specifically prohibited) during periods when the use of firearms is allowed.
While electronic callers are expensive, mouth and hand callers are cheaper but harder to use.
Read this article and watch the video to learn how to use a closed reed rabbit squealer.
Follow along as call manufacturer Brian Rush shows you three open reed calls you can learn and use today.
You can check the price for an electronic caller on Amazon.
Related: You can read about some highly effective but inexpensive ($20) coyotes decoys here.
Night hunting bobcats in Virginia.
Lights, night vision, infrared, and thermal riflescopes. All are allowed on private land. Check for public land restrictions here before hunting coyotes at night.
Related: What is the best night vision scope for a new predator hunter?
Related: How does the ATN Thor 4 thermal riflescope perform in the field?
Related: Just getting started and want to hunt with a light? Here is the best color to use when hunting predators at night.
Night hunting. Nuisance species may be taken day or night.
Can I kill a bobcat on my property in Virginia.
If the season is closed, you may take a nuisance bobcat if you meet the following:
No Kill Permit required from VDGIF
Landowner may kill on his own land during closed season
You must contact the Commonwealth Attorney's office in your county/city for information regarding legal methods of animal removal. Local ordinances are usually more restrictive than state laws.
Nuisance bobcats may also be taken at night, where local laws permit.
Always check Virginia laws, your local game warden, or animal control officer for updates before proceeding.
Reporting required when hunting bobcats in Virginia.
Electronic Reporting Requirement for Bobcats
All hunters or trappers who kill a bobcat are required to report the kill within 24 hours through the Department's electronic harvest reporting system. Bobcats can be reported with a touchtone telephone (a rotary phone will not work) by calling the toll-free number 866-GOT-GAME (468-4263). Bobcats can also be reported using the mobile app or Internet. Successful hunters and trappers can go to GoOutdoorsVirginia.com and click on "Harvest Reporting."
Before using the telephone or Internet reporting system, you will need your hunting license number, a pen, and a piece of paper to record your confirmation number. If you are exempt from purchasing a license, you will need your date of birth (MM/DD/YYYY), the last four digits of your Social Security number and your 5-digit zip code.
At the end of the reporting session, you will be provided with an 8-digit confirmation number. Write this number down and store it in a secure location where it can be retrieved to prove compliance with the reporting requirement or to request CITES tags. If your telephone or Internet session is cut off before you get a complete confirmation number, start the session again and continue until the complete confirmation number is obtained. If you have more than one bobcat to report, you will have the opportunity to report additional animals at the end of the session.
If you plan to take the bobcat to a taxidermist, you must securely attach written documentation to the carcass that includes the full name of the hunter or trapper, date of kill, and the harvest confirmation number.
Bobcats legally killed by landowners outside the season are not required to be reported using the electronic harvest reporting system. If you plan to take a bobcat to a taxidermist that does not require reporting, you must securely attach the same information described above (except for the confirmation number) and a description of how the bobcat was legally obtained.
Is a CITIES tag required for your Virginia bobcat?
Raw bobcat pelts and unskinned carcasses that are bought, sold, bartered, traded, solicited for purchase, or transported out of state must also have a CITES tag affixed to each pelt by the trapper or hunter who harvested the animal. A valid confirmation number will be needed to obtain a CITES tag. No CITES tag is needed to have a bobcat mounted by a Virginia taxidermist or to ship a bobcat pelt out-of-state for tanning purposes (unless required by the state where the tannery is located).
Before a sale, the trapper or hunter harvesting the animal needs to obtain a CITES tag. To obtain a CITES tag for a bobcat, contact Customer Service at (804) 367-1000 during regular business hours. If you cannot reach Customer Service, you can contact a Conservation Police Officer through your nearest Department regional office (listed on page 4) or your local Sheriff's Office (after hours). Every effort will be made to provide CITES tags as quickly as possible, but we may not be able to accommodate short notice requests received on weekends or after hours. Nonresident hunters or trappers who need to leave the state before they are able to secure a CITES tag should plan to leave the bobcat pelt or carcass in the care of someone in Virginia until a tag can be attached.
Make sure that you have a valid harvest confirmation number for each CITES tag requested. Tags ordered from our Customer Service Center will be mailed directly to the hunter or trapper, along with instructions for tagging. If a bobcat pelt is required to have a CITES tag affixed, it must be tagged by April 1 of the season of harvest.