What are the laws for hunting fox in West Virginia? This article covers many of the fundamental laws you will need to know to get started. It also provides information such as seasons, harvest limits, and required permits for bobcat hunting in West Virginia. It is not a legal document and is not intended to cover all hunting laws and regulations.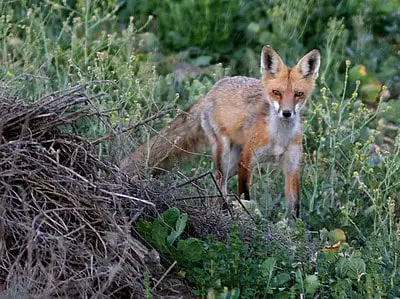 In West Virginia, fox may be hunted Nov. 4, 2023 – Feb. 29, 2024 during the day. Night hunting with artificial light of fox is allowed from Jan. 1, 2024 – Feb. 29, 2024. There are no bag limits. a valid hunting license is required.
Purchase a West Virginia hunting license here.
Check out all the West Virginia hunting seasons.
First time hunting fox? Check out these articles:
Read: How to call in a fox.
Read: How to use tracks and scat to hunt a fox.
Related: Read the laws for hunting coyotes in West Virginia.
Related: Read the rules for hunting bobcats in West Virginia.
If you are a property owner with a predator problem, please visit Coyote Cowboys Predator Control for tips or services.
Night hunting fox in West Virginia.
Lights, night vision, infrared, and thermal riflescopes. All are allowed during the night hunting season.
The West Virginia regulations states:
Furbearing animals in West Virginia include mink, weasels, muskrat, beaver, opossum, skunk, otter, gray fox, red fox, bobcat, raccoon, fisher, and coyote. All these species may be trapped during their respective open seasons in West Virginia.
Only opossum, skunk, gray fox, red fox, bobcat, raccoon and coyote may be hunted with firearms or archery equipment
Related: What is the best night vision scope for a new predator hunter?
Related: How does the ATN Thor 4 thermal riflescope perform in the field?
Related: Just getting started and want to hunt with a light? Here is the best color to use when hunting predators at night.
General regulations for hunting fox in West Virginia.
Suppressors. When legally owned, they may be used for hunting.
Electronic callers. Legal for fox hunting. Electronic calls may be used to hunt bobcats, coyotes, crows, foxes and raccoons, but not other species. With the exception of crows, written permission of the landowner is required to hunt with electronic calls on private lands. Electronic calls may also be used on public lands (except where specifically prohibited) during periods when the use of firearms is allowed.
While electronic callers are expensive, mouth and hand callers are cheaper but harder to use.
Read this article and watch the video to learn how to use a closed reed rabbit squealer.
You can check the price for an electronic caller on Amazon.
Related: You can read about some highly effective but inexpensive ($20) decoys here.
Illegal hunting methods in West Virginia.
Hunt in state parks (except as otherwise designated), in safety zones in state forests or wildlife management areas, and in Harpers Ferry National Historical Park.
Shoot, hunt, or trap upon the fenced, enclosed, purple paint marked or posted lands of another person without having in possession written permission from the landowner.
Have a bow with a nocked arrow, a crossbow with a nocked bolt, a rifle or shotgun with cartridges that have not been removed or a magazine that has not been detached, in or on any vehicle or conveyance (including AT Vs./UTVs) or its attachments. You can have a loaded clip or magazine in the vehicle as long as it is not in or attached to the firearm. Exception for legally carried concealed weapons.
Carry an uncased or loaded firearm in the woods of this state or in state parks, state forests, state wildlife management areas, or state rail trails, except during open firearms hunting seasons
where hunting is lawful.
It is legal to hunt unprotected species of wild animals, wild birds and migratory game birds during the open season in fields, waters, and marshes of the state where hunting is lawful.
Hunt with a fully automatic firearm.
Hunt small game in counties having a buck firearms season during the first three days of this season. It is legal to hunt waterfowl during this period on lakes, rivers, and waterways during the open waterfowl season, to hunt bear in specified counties, and to hunt coyotes.
Hunt deer, bear, or boar between 1/2 hour after sunset and 1/2 hour before sunrise or with an electronic call.
Hunt deer, bear, or boar between 1/2 hour after sunset and 1/2 hour before sunrise or with an electronic call.
Be afield with a gun and bow, or with a gun and any arrow, except that a handgun, rifle, or shotgun may be carried, by whom is not prohibited from possessing firearms under state or federal law.
Is blaze orange needed to hunt fox in West Virginia?
Blaze Orange Requirement
Persons hunting in counties or portions thereof where a deer firearms season is presently open shall wear a blaze orange outer garment of at least 400 square inches.
This applies to counties or parts thereof with the special youth/Class Q/QQ/XS antlerless deer season. This applies to the Mountaineer Heritage Season.
This does not apply to waterfowl hunters and persons engaged in farming activities on their own land.