What are the laws for hunting fox in Washington? This article covers many of the fundamental laws you will need to know to get started. It also provides information such as seasons, harvest limits, and required permits for bobcat hunting in Washington. It is not a legal document and is not intended to cover all hunting laws and regulations.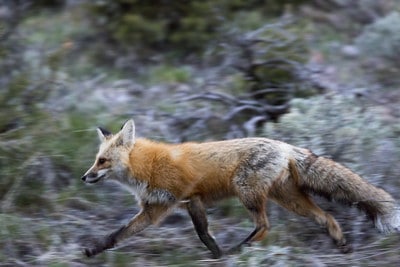 In Washington, the fox hunting season runs from September 1st to March 1st. Fox hunting is not permitted within the exterior boundaries of the Mt. Baker-Snoqualmie, Okanogan, Wenatchee, and Gifford Pinchot National Forests. A valid hunting license is required. There are no bag limits.
Purchase a Washington hunting license here.
Check out all the Washington hunting seasons.
First time hunting fox? Check out these articles:
Read: How to call in a fox.
Read: How to use tracks and scat to hunt a fox.
Related: Read the laws for hunting coyotes in Washington.
Related: Read the rules for hunting bobcats in Washington.
General regulations for hunting fox in Washington.
Suppressors. When legally owned, they may be used for hunting.
Baiting. Allowed on private land and some public lands. There is a noted restriction: it is illegal to feed any wild animal when the feeding results in property damage, endangers people or wildlife, or creates a public health concern.
Related: Read this article to learn how to make the perfect bail pile.
Electronic callers. Legal for fox hunting. Electronic calls may be used to hunt bobcats, coyotes, crows, foxes and raccoons, but not other species. With the exception of crows, written permission of the landowner is required to hunt with electronic calls on private lands. Electronic calls may also be used on public lands (except where specifically prohibited) during periods when the use of firearms is allowed.
While electronic callers are expensive, mouth and hand callers are cheaper but harder to use.
Read this article and watch the video to learn how to use a closed reed rabbit squealer.
You can check the price for an electronic caller on Amazon.
Related: You can read about some highly effective but inexpensive ($20) decoys here.
Night hunting fox in Washington.
While night hunting is permitted in Washington, there are some restrictions in certain areas and at certain times:
Hunting with artificial lights (RCW 77.15.450):
Hunting big game with the aid of an artificial light, spotlight, or night vision equipment is prohibited. Night vision equipment includes electronic light amplification devices, thermal imaging devices, and other comparable equipment used to enhance night vision.
It is illegal to hunt all big game with the aid of infrared night vision equipment or with laser sights (not to include range finders) capable of projecting a beam onto the target, while in possession or control of a firearm, bow and arrow, or crossbow.
You may not hunt wildlife during any modern firearm deer or elk season, with any firearm .24 caliber or larger or containing slugs or buckshot for big game, unless you have a valid license, permit and tag for one of the following: deer, elk, black bear, cougar, mountain goat, bighorn sheep, or moose. During any modern firearm deer or elk season, it is illegal to hunt any wildlife after legal hunting hours. See exceptions to legal big game hunting hours on Hunting Hours.
Lights, night vision, infrared, and thermal riflescopes. All are allowed on private land. Check for public land restrictions here before hunting fox at night.
Related: What is the best night vision scope for a new predator hunter?
Related: How does the ATN Thor 4 thermal riflescope perform in the field?
Related: Just getting started and want to hunt with a light? Here is the best color to use when hunting predators at night.
Can I kill a fox on my property in Washington?
Under RCW 77.36.030: Trapping or killing wildlife threatening human safety or causing property damage, limitations and conditions, rules:
(1) Subject to limitations and conditions established by the commission, the owner, the owner's immediate family member, the owner's documented employee, or a tenant of real property may trap, consistent with RCW  77.15.194, or kill wildlife that is threatening human safety or causing property damage on that property, without the licenses required under RCW  77.32.010 or authorization from the director under RCW  77.12.240.
(2) The commission shall establish the limitations and conditions of this section by rule. The rules must include:(a) Appropriate protection for threatened or endangered species;(b) Instances when verbal or written permission is required to kill wildlife;(c) Species that may be killed under this section; and(d) Requirements for the disposal of wildlife trapped or killed under this section.
(3) In establishing the limitations and conditions of this section, the commission shall take into consideration the recommendations of the Washington state wolf conservation and management plan.
Please speak with your local game warden or animal control officer before proceeding.