What are the laws for hunting fox in North Carolina? This article covers many of the fundamental laws you will need to know to get started. It also provides information such as seasons, harvest limits, and required permits for bobcat hunting in North Carolina. It is not a legal document and is not intended to cover all hunting laws and regulations.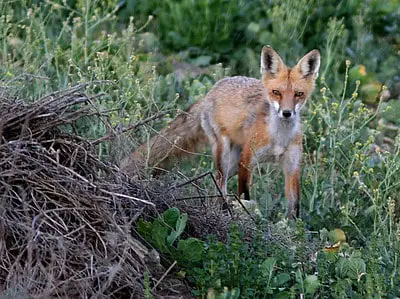 The North Carolina state law regarding foxes, coupled with the diversity of local laws, has resulted in 27 fox hunting seasons with weapons in 89 counties, and 23 fox trapping seasons in 55 counties. Fox hunters MUST consult this county/local regulations page before proceeding.
Purchase a hunting license here.
Check out all the North Carolina Hunting Seasons.
First time hunting fox? Check out these articles:
Read: How to call in a fox.
Read: How to use tracks and scat to hunt a fox.
Related: Read the laws for hunting coyotes in North Carolina.
Related: Read the laws for hunting bobcats in North Carolina.
Can you kill a fox on your property in North Carolina?
Nuisance fox can also be taken year-round with a Depredation Permit, but a depredation permit is not required when controlling nuisance furbearers within 100 yards of a property owner's residence.
The S.C. Department of Natural Resources issues this permit. Call your local wildlife management office or law enforcement field office to obtain a permit.
Artificial lights and electronic callers illegal when hunting fox in North Carolina.
Artificial Lights and Electronic Calls
It is unlawful to use artificial lights (including laser sights) and electronic or recorded calls in taking wild birds or animals except as follows:

You can use artificial lights to retrieve harvested big game.
Artificial lights may be used for taking feral swine and coyotes at night where legal.
Artificial lights may be used for taking bullfrogs.
Electronic or recorded calls are legal for crows, coyotes, and feral swine hunting. Other exceptions for migratory game birds may be found under individual season descriptions.
When hunting with dogs during open seasons, raccoon and opossum may be taken at night using artificial lights commonly used to aid in taking raccoon and opossum. 

In addition to the prohibition of taking wildlife with artificial light, except for big game retrieval, many counties have local regulations that prohibit shining lights on deer or searching for deer with lights 30 minutes after sunset or after 11 p.m. A color-coded map showing county shining laws is on Deer Zone Maps.
The flashing or display of any artificial light between 30 minutes after sunset and 30 minutes before sunrise in any area that is fre­quented or inhabited by wild deer by any person who has access to a firearm, crossbow or other bow and arrow con­stitutes prima facie evidence of taking deer with the aid of an arti­ficial light.
Using mouth and hand calls when hunting fox in North Carolina.
If you are unfamiliar with mouth and hand calls, here's two articles with instructional videos that will help you learn to use them.