What are the laws for hunting fox in Minnesota? This article covers many of the fundamental laws you will need to know to get started. It also provides information such as seasons, harvest limits, and required permits for bobcat hunting in Minnesota. It is not a legal document and is not intended to cover all hunting laws and regulations.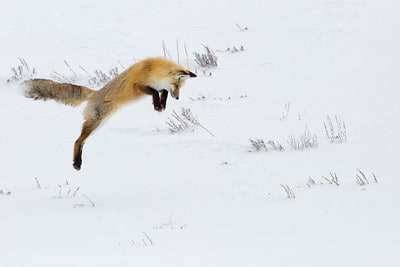 In Minnesota, the red and gray season runs from 10/15/22 – 03/15/23 in the North furbearer zone and 10/22/22 – 03/15/23 in the South furbearer. Shooting begins at 9 a.m. on opening day, and there are no daily or seasonal bag limits. A valid small game hunting license is required.
Purchase a Minnesota small game license here.
Check out the Minnesota hunting seasons.
First time hunting fox? Check out these articles:
Read: How to call in a fox.
Read: How to use tracks and scat to hunt a fox.
Related: Read the laws for hunting coyotes in Minnesota.
Related: Read the laws for hunting bobcats in Minnesota.
Using lights hunting fox in Minnesota.
In Minnesota, hunters may use lights while hunting fox and coyote (January 1 – March 15). However, hunters must be on foot and not within the public right of way, using shotguns only, possess a calling device, and not within 200 feet of a vehicle.
Night vision equipment.
A person may not possess any kind of night vision or thermal imaging equipment while taking wild animals or while possessing a firearm, bow, or other implement that could be used to take wild animals.
However, this regulation does not apply when:
Related: Hunting coyotes and foxes at night in Minnesota? Read this how to hunt with a shotgun.
Starting with a simple scope mounted light is inexpensive—but truly an exciting way to hunt coyotes. Read this article to choose the right color of light for night hunting predators.
Infrared scopes have their value in terms of better target identification compared to thermal, but they cost a lot more. Beginners should consider the ATN X-Sight 4K Pro, but read this article before buying one.
A thermal riflescope is a major purchase. You must wait until you have determined you are addicted to coyote or predator hunting before buying one. For new hunters, I recommend the ATN Thor 4 (good for up to 150 yards). Please check out my article on ATN Thor 4 scope before buying one.
General laws for hunting fox in Minnesota.
Electronic callers and decoys. Legal to use for hunting furbearers, as are hand and mouth callers.
While electronic callers are expensive, mouth and hand callers are less pricey but take time to learn how to use.
Read this article and watch the video to learn how to use a closed reed rabbit squealer.
Follow along as call manufacturer Brian Rush shows you three open reed calls you can learn and use today.
You can read about some highly effective but inexpensive ($20) decoys here.
You can check Amazon's price list for callers and decoys here.
Suppressors. If you may legally possess one, you may use it for hunting fox.
Can I kill a fox on my property in Minnesota?
The Minnesota Department of Natural Resources does not trap, shoot, or relocate fox. Where necessary, removal of fox is the responsibility of the landowner or tenant.
If a fox is causing damage in Minnesota, it may be removed by a landowner or their agent. Report any fox killed to a conservation officer or employee of the Fish and Wildlife Division within 24 hours after the animal is killed. For information on Wildlife Control Operators consult your phone directory or browse website listings.