What are the laws for hunting fox in Georgia this year? This article covers many of the fundamental laws you will need to know to get started. It also provides information such as seasons, harvest limits, and required permits for hunting fox in Georgia. It is not a legal document and is not intended to cover all hunting laws and regulations.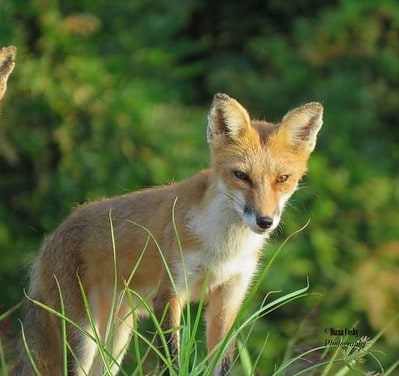 In Georgia, fox hunting is allowed statewide from December 1st through February 28th. A license is required, but there is no bag limit.
Purchase a Georgia hunting license here.
Check out the Georgia hunting seasons.
First time hunting fox? Check out these articles:
Read: How to call in a fox.
Read: How to use tracks and scat to hunt a fox.
Related: Learn the rules for hunting coyotes in Georgia here.
Related: Check out the laws for hunting bobcats in Georgia.
Laws for hunting fox in Georgia.
Night hunting and the use of lights. It shall be unlawful to hunt at night any game bird or game animal in this state except for alligators, raccoons, opossums, foxes, and bobcats. Any light used to hunt raccoons, opossums, foxes, or bobcats shall be carried on the person of a hunter, affixed to a helmet or hat worn by a hunter, or be part of a belt system worn by a hunter.
Thermal and night vision scopes. There does not appear to be a law against their use. This is a regulation that should be checked annually.
Using a simple scope-mounted light is inexpensive but an exciting way to hunt foxes. Read this article to choose the right color of light for night-hunting predators.
Infrared scopes have their value (better target identification than thermal), but they can get pricey. Beginners should consider the ATN X-Sight 4K Pro, but read this article before buying one.
A thermal riflescope will set you back thousands of dollars. It would be best if you waited until you have determined you are addicted to fox or predator hunting before buying one. For new hunters, I recommend the ATN Thor 4 (good for up to 150 yards). Please check out my article on ATN Thor 4 scope before buying one.
Suppressors are legal. You may use it while hunting fox.
Electronic callers are illegal. Only hand and mouth calls may be used to hunt fox in Georgia.
Read this article and watch the video to learn how to use a closed reed rabbit squealer.
Decoys are legal. You can read about some highly effective but inexpensive ($20) decoys here.
Illegal methods of hunting fox in Georgia.
Hunting private property without permission.
Hunting while under the influence of drugs or alcohol.
Killing or crippling game without reasonable efforts to retrieve.
Hunting or shooting from or across a public road.
Hunting from a vehicle, plane, or boat under power.
Use of a computer or any other device to remotely discharge a firearm for the purpose of hunting.
Use of drugs, poisons, chemicals, smoke, gas, explosives, or electronically-amplified sounds to hunt any game species.
Use of electronic communications equipment to aid in the pursuit of game.
Discharging a firearm within 50 yards of a public road.
Blinding wildlife with lights.
Can I kill a fox on my property in Georgia?
During regulated trapping or hunting seasons, you can remove foxes yourself. If it is not trapping or hunting season and foxes are causing property damage, you can obtain a nuisance wildlife control permit from Georgia DNR.