The Triangulate cobweb spider is so tiny it often retreats inside your computer to warm up and rest. It's literally a computer bug.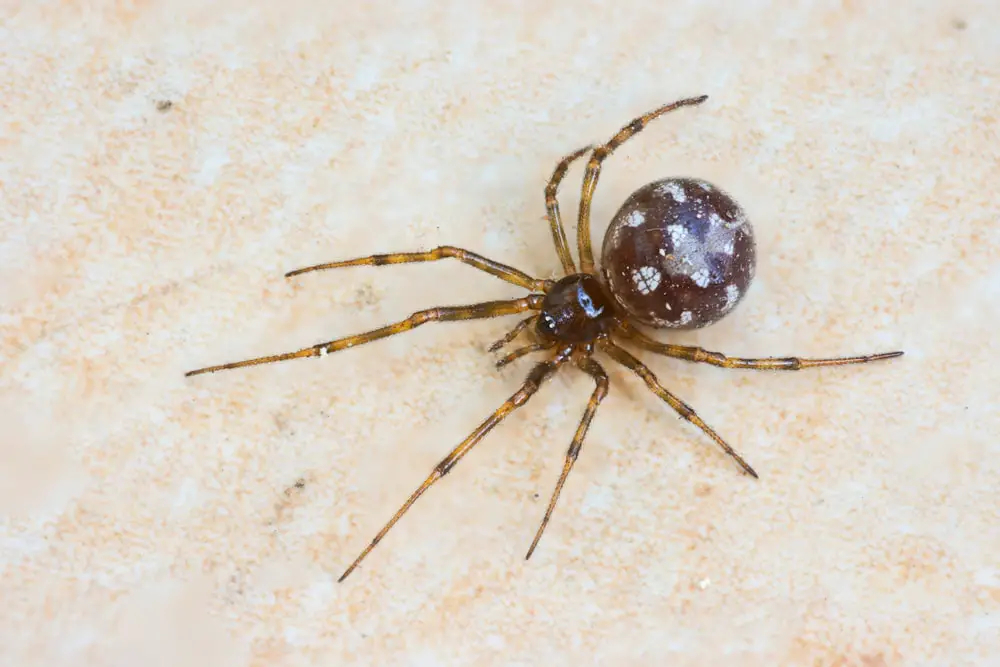 The Triangulate cobweb spider: Identification.
At first glance, this tiny Triangulate cobweb spider might be easily overlooked since it tends to build its cobwebs in dark corners of households and basements. Measuring only 1/8 – ¼ inch long, the cephalothorax is brownish-orange, while each of its yellow legs contains darker sections at their tips.
The abdomen has a finely pubescent texture with shades of brown and white, triangular spots along the mid-dorsal part, and irregular markings adorn the lateral area.
Triangulate cobweb spider: Habitat.
The Triangulate cobweb spider is found in abundance locally around houses in North America, spreading rapidly since its introduction. Although rare in South America, evidence of sightings has also been recorded there.
You'll often find these brush-footed spiders (Theridiidae family) in urban environments, near human constructions, tucked away on walls' dark corners, around windowsills, and beneath eaves. They weave irregular webs that they hang from as a trap for their victims, using the sharp bristles of their hind legs to ensnare them with sticky silk before finally biting down when the prey is stilled.
The Triangulate cobweb spider is a predator to be wary of, as it can often be found close to the brown recluse and common house spiders. Hiding out inside closets, crevices, and other nooks, this arachnid has been known to feast on ants, ticks, and pillbugs – not to mention its kind!
Texas dwellers should take extra care; reports indicate they may even prey upon fire ants nesting within utility equipment housings.
Triangulate cob web spider: Reproduction and venom.
From late spring to early autumn, mating spiders and their egg sacs have been discovered. Each egg sac is around the size of an adult spider and consists of loosely woven white silk that houses up to 30 eggs.
Although rare, it is theoretically possible for a human to experience extreme envenomation from the bite of a triangulate cobweb spider. Fortunately, though, such cases have not been reported as of yet.
Further recommended reading about spiders.
Spider pages: Learn how to identify and avoid these spiders.
Black Spiders: How to identify them.
Long-Palped ant-mimic sac spider.
The most venomous spiders in the world.
Red house spider identification.
Orb weaver Spiders: How to identify and get rid of them.
Common house spiders: How to Identify and get rid of them.
Six-Eyed Sand Spider: Is the White Sand Spider Dangerous?
10 biggest spiders in the world.
Giant Huntsman Spider: How to Identify the Largest Spider
Brazilian salmon pink bird-eating tarantula
Brazilian Giant Tawny Red Tarantula
Colombian Giant Redleg Tarantula
Cerbalus Aravaensis: Middle East's Largest Spider
Camel spiders: Myths and Facts.
Net-casting spiders: How to identify these spiders.
White-tailed spider: How to identify and manage.
Katipo Spider: How to identify New Zealand's venomous spider
Brown widow spider: How to identify and avoid the false widow.
Redback spiders how to identify them and prevent bites
Funnel weaver spiders vs funnel-web
Cellar spiders how to identify and get rid of them
How to identify the wolf spider
How to identify the hobo spider
Brazilian wandering spider how to identify and avoid
Huntsman spider how to identify the eight legged freak
Jumping spiders how to identify these harmless hunters
Black widow spiders how to identify and avoid
Tarantulas appearance diet and mating