Peppered jumping spiders (Pelegrina galathea), are a captivating species of jumping spider native to North America. This graceful arthropod can be found from Canada all the way down to Costa Rica – but its favorite places are sunny grassy spots!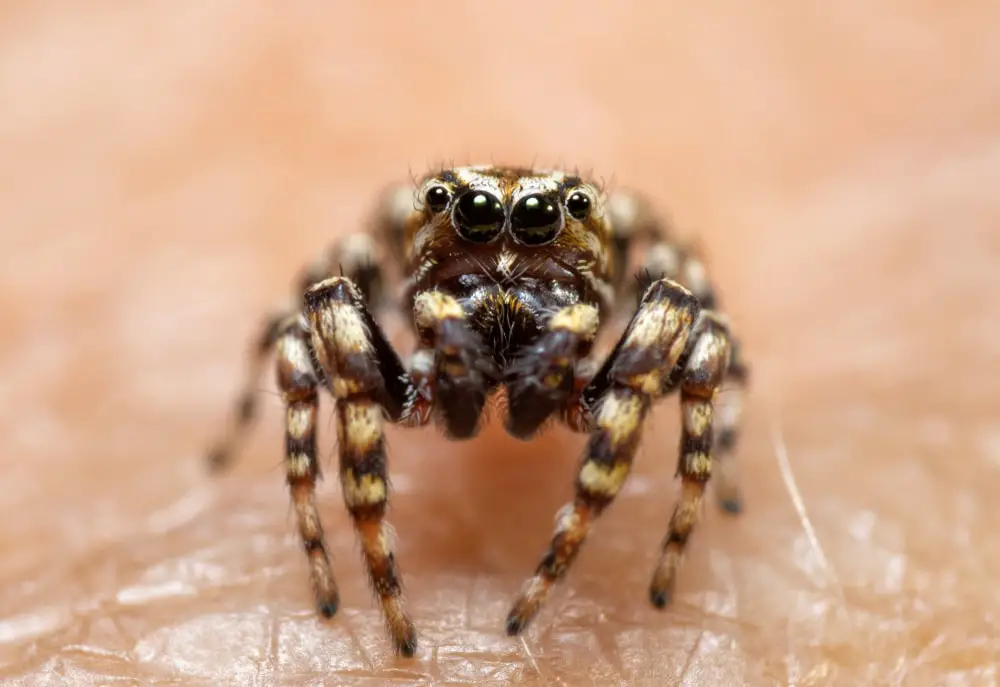 Peppered Jumping spiders: Description.
Peppered Jumping spiders are spiders in the family Salticidae, consisting of over 6,000 species and making it the most prominent family of spiders. Peppered jumping spiders black and white in color—but remain nearly identical in all other respects to other species of jumping spider.
Peppered Jumping spiders are well known for their ability to jump long distances and for the excellent vision provided by their two large anterior median eyes.
Peppered Jumping spiders range from 1/25" to 1" in length. There is no limit to their body colors or patterns. However, male jumping spiders are more colorful than the more often dull-colored females.
And, of course, there are the eyes of the peppered jumping spider. It has four pairs of eyes, two of which (the anterior median eyes) are almost comically large and sit next to each other on the spider's flat face. 
Cute, right? Indeed, cute enough to keep as pets.
Related: How long do ants live?
Related: What do ants eat?
Further recommended reading about spiders.
Spider pages: Learn how to identify and avoid these spiders.
The most venomous spiders in the world.
Red house spider identification.
Orb weaver Spiders: How to identify and get rid of them.
Common house spiders: How to Identify and get rid of them.
Six-Eyed Sand Spider: Is the White Sand Spider Dangerous?
10 biggest spiders in the world.
Giant Huntsman Spider: How to Identify the Largest Spider
Brazilian salmon pink bird-eating tarantula
Brazilian Giant Tawny Red Tarantula
Colombian Giant Redleg Tarantula
Cerbalus Aravaensis: Middle East's Largest Spider
Camel spiders: Myths and Facts.
Net-casting spiders: How to identify these spiders.
White-tailed spider: How to identify and manage.
Katipo Spider: How to identify New Zealand's venomous spider
Brown widow spider: How to identify and avoid the false widow.
Redback spiders how to identify them and prevent bites
Funnel weaver spiders vs funnel-web
Cellar spiders how to identify and get rid of them
How to identify the wolf spider
How to identify the hobo spider
Brazilian wandering spider how to identify and avoid
Huntsman spider how to identify the eight legged freak
Jumping spiders how to identify these harmless hunters
Black widow spiders how to identify and avoid
Tarantulas appearance diet and mating