Will you be hunting bobcats in Maine this year? This article covers many of the fundamental laws you will need to know to get started. It also provides information such as seasons, harvest limits, and required permits for bobcat hunting in Maine. It is not a legal document and is not intended to cover all hunting laws and regulations.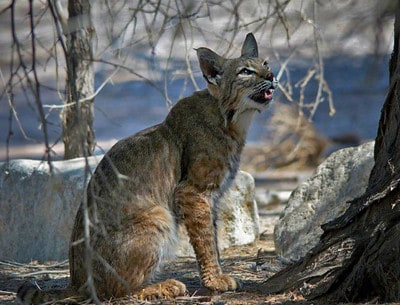 In Maine, the bobcat hunting season runs from December 1st to February 21. Hunting hours are 1/2 hour before sunrise until 1/2 after sunset. Bobcats taken by hunting must be tagged 10 days from the time they were harvested, and a tooth must be submitted for aging. A license is required.
Purchase a Maine hunting license here.
Check out the Maine hunting seasons.
If this is your first time hunting bobcats, these two articles will help you get started.
How to read bobcat tracks and scat.
Related: Read this article for the laws for hunting coyotes in Maine.
Related: Read the laws for hunting fox in Maine.
General laws for hunting bobcats in Maine.
Suppressors.
While a person no longer needs a permit from Warden Service to hunt with a suppressor device, anyone who wishes to possess a firearm fitted or contrived with any device for deadening the sound of the explosion must still obtain the appropriate federal permit from The Bureau of Alcohol, Tobacco, Firearms and Explosives (ATF).
Electronic callers and decoys. Decoys are legal, but electronic callers cannot be used to hunt bobcats in Maine. Electronic callers are currently legal for deer, bear, turkey, moose, and coyote hunting only. Mouth and hand callers are legal.
Read this article and watch the video to learn how to use a closed reed rabbit squealer.
Decoys are legal. You can read about some highly effective but inexpensive ($20) coyotes decoys here.
Night hunting. You may not hunt bobcats at night in Maine.
Sunday hunting of bobcats.
You may not hunt bobcats in Maine on Sundays.
"Possession of hunting equipment in the fields and forests or on the waters or ice of this state on Sunday is prima facie evidence of a violation of Sunday hunting law, unless the equipment is securely wrapped in a complete cover, fastened in a case, or carried in at least two separate pieces in such a way that it cannot be fired without the pieces being joined together (for the purpose of this paragraph, a firearm clip, magazine, or cylinder is not considered a "piece"). 
Bows and arrows must be kept in a case or cover if broadheads or field points are kept attached to the arrows. 
Exception: A person may possess hunting equipment on Sunday for legitimate activities such as target practice, sighting in rifles, etc."
Discharging firearms while hunting bobcats in Maine.
Shooting within 100 Yards of Dwelling or State Owned Boat Launch:
It is unlawful to discharge any firearm, muzzleloader, or crossbow, or cause a projectile to pass as a result of that discharge, within 100 yards (300 feet) of a building without permission from the owner or, in the owner's absence, an adult occupant who dwells in that building. This provision also applies to state-owned boat launches that are posted accordingly. 
New Law in 2021: it is unlawful to discharge an arrow from a bow and arrow when on the land of another person and within 100 yards of a building on that land without permission of the owner (or in the owner's absence, permission from an adult occupant) of that building or cause an arrow from a bow and arrow to pass across the land of another person and within 100 yards of a building on that land without the permission of the owner (or in the owner's absence, permission from an adult occupant) of that building.
Can you kill a property destroying bobcat in Maine.
While it is always best to first speak with a game warden or animal control officer, there is a Maine law that states:
§12401 – Attacking domestic animals or destroying property
Except as provided in sections 12402 and 12404, a person may lawfully kill, or cause to be killed, any wild animal or wild turkey, night or day, found in the act of attacking, worrying or wounding that person's domestic animals or domestic birds or destroying that person's property
. A person who kills a wild animal or wild
turkey
by authority of this section shall report the incident to the Maine Warden Service as provided in section 12402, subsections 3 and 4. 
[2003, c. 414, Pt. A, §2 (NEW); 2003, c. 614, §9 (AFF).]