This page of Delaware hunting seasons is updated annually. While Thepredatorhunter.com focuses on coyotes, fox, and bobcats, it is hoped other game hunters will take up predator hunting as well. We suggest you check out these predator hunting links specific to the state of Delaware:
Purchase a hunting license in Delaware here.
Learn the rules for hunting coyotes in Delaware.
Learn the rules for hunting fox in Delaware.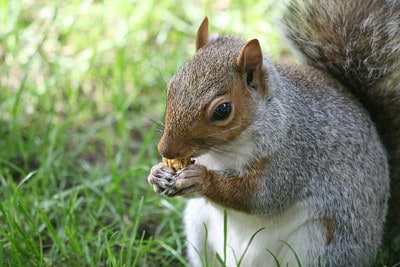 Delaware hunting seasons for continuing species.
Continuing Hunting Seasons
Gray squirrel: Through Feb. 5, 2022 (half an hour before sunrise to half an hour after sunset)
Gray squirrels are quite common while Delmarva fox squirrels are so rare they are on the state Endangered Species list.
If you hold a Delaware hunting license, you are permitted to hunt gray squirrels but NOT fox squirrels. Before you shoot, take a good look at the squirrel in your crosshairs! Delmarva fox squirrels are more likely to walk on the ground rather than jump from tree to tree as with gray squirrels.
Ring-necked pheasant (male only): Through Feb. 5, 2022
Cottontail rabbit: Through Feb. 28, 2022
Coyote (hunt): Through Feb. 28, 2022
Red fox (hunt): Through Feb. 28, 2022
Raccoon and opossum (hunt): Through Feb. 28, 2022
Crows: through March 26, 2022, June 23 through 25, 2022 and June 30, 2022 (Thursdays, Fridays and Saturdays only)
Groundhog: through June 30, 2022
Continuing Trapping Seasons
Muskrat, mink, otter, raccoon, opossum, nutria:
New Castle County: Through Mar. 10, 2022 (March 20 on embanked meadows)
Kent and Sussex counties: Through Mar. 15, 2022
Red fox and coyote: Through Mar. 10, 2022
Beaver: Through Mar. 20, 2022, on private land only.
Delaware hunting seasons for snow goose.
The 2022 Snow Goose Conservation Order is open Tuesday, Feb. 1 through Friday, Feb. 4, closing for the youth waterfowl hunting day on Saturday, Feb. 5, and reopening on Monday, Feb. 7 through Friday, April 8.
Legal shooting hours are a half-hour before sunrise to a half-hour after sunset. There are no daily bag and possession limits, and unplugged shotguns and electronic calls are allowed. All other federal and state hunting regulations apply.
Delaware hunting seasons for deer.
| | |
| --- | --- |
| SEASONS | DATES |
| Archery | Statewide Sept. 1 – Jan. 31 |
| Crossbow | Statewide Sept. 1 – Jan. 31  |
| Muzzleloader | StatewideOct. 8 – 17Jan. 24 – 30 |
| General Firearm(Also known as Shotgun Seasons) | StatewideNov. 12 – 21Jan. 15 – 23 |
| Special Antlerless | Statewide Oct. 1 – 3, 18, 22 – 25, and 29 – 31 Dec. 11 – 19 |
| Handgun and Straight-walled Pistol-caliber Rifle | Season closed in Wildlife Management Zones 1A and 1BJan. 1, 3 – 8 |
| Youth and Non-ambulatory Hunt | StatewideNov. 6 and 7 |
Delaware hunting season for turkey.
The 2022 spring wild turkey hunting season will run from April 9 through May 7, 2022. A special one-day hunt for youth and non-ambulatory hunters is set for April 2, 2021.Wild Turkeys in Delaware Turkey Hunting Rules Turkey Hunting Check Stations Turkey Hunting Course 
Resident and non-resident hunters age 13 and older must have a valid Delaware Hunting License and pass a turkey hunting course approved by the DNREC Division of Fish and Wildlife before they can legally hunt turkeys in Delaware.
There is no Sunday hunting of turkeys. The bag limit is one turkey per year. Bearded turkeys only.
Turkey hunting hours are one half-hour before sunrise until 1:00 p.m.
All turkeys must be checked at an authorized turkey check station by 2:30 p.m. on the day the bird is harvested.