Is this your first night hunting coyotes? Are you still deciding which coyote calling sounds you should use tonight?
Have you watched every YouTube video made by the pros, and yet you're still stuck?
We asked a few folks from Overdrive Outdoors, Predator Hunting 101, Predator Hunting Discussion Group, and Coal Country Killers what were their favorite coyote calling sounds.
These people have some excellent skills, but do they use many different calls at each stand? Are they running timers and following tight calling schedules?
Are there "secret" coyote calling sounds or sequences your successful pals use that perhaps you should try tonight?
Coyote calling sounds from real predator hunters.
All of these predator hunters have one thing in common; they've all agreed to spill their guts and tell you a couple of their favorite coyote calling sounds.
Take peek at what they said and remember, these are regular folks who were once like you—new predator hunters. They want you to succeed, and they are very good at calling coyotes.
How good are they? Check out this video from Michael Moore of Maryland, and you tell me.
Yep, he called in three coyotes and even gave them the courtesy of letting them hear the safety come off his rifle. And it wasn't an unusual night for Mr. Moore.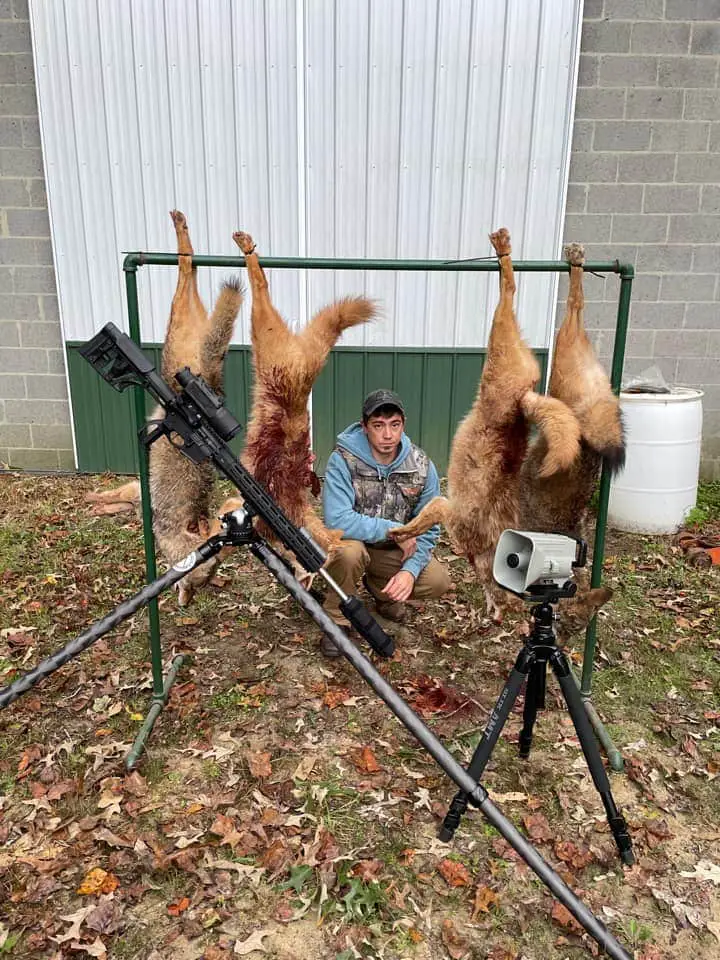 Mike explains, "On that stand (the video above), it only took 4 minutes of calling before the coyotes charged across the field.
Caller: MFK Edition FoxPP x24.
Sounds and sequences: MFK female lonely howls, 30-60 second pause, MFK Female invitational howls, 30-60 second pause, and the MFK bump and grind. That stand took 4 minutes before they charged across the field.
Rifle: Self built AR15 in 204 Ruger.
Winning tournaments with the right coyote calling sounds.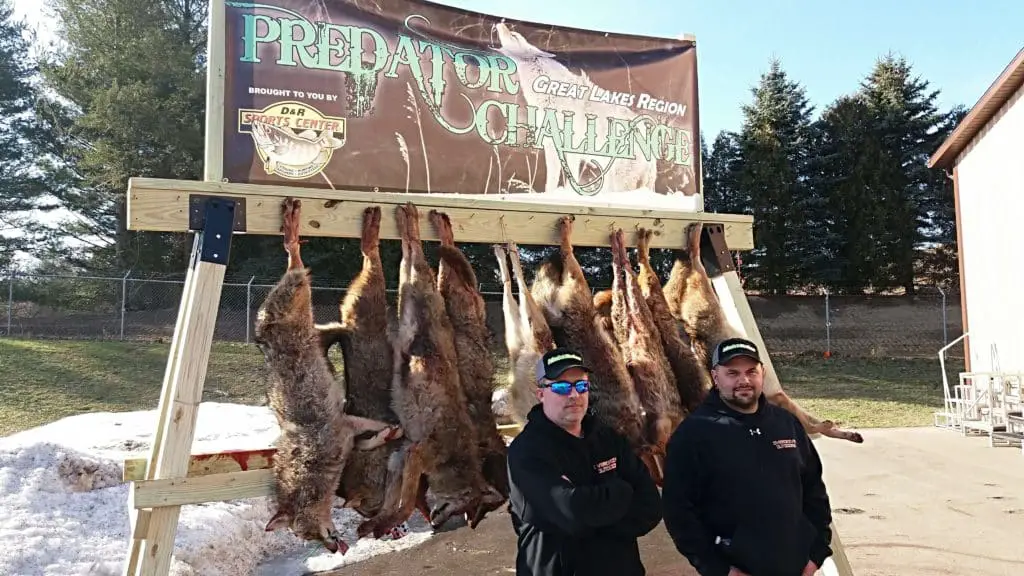 Kevin Rought, co-owner of https://www.facebook.com/overdriveoutdoors is a frequent contributor to https://thepredatorhunter.com/.
Kevin's a big fan of invitational howls, especially female.
Another favorite of his, especially for coyote contests, is Tony Tebe's Den Raid. Den Raid advertises this call as "Full of growling, fighting, and pup squealing, as (the pups) are pulled from the den."
"We've won the tourney (above) using Den Raid, and it sealed the deal on every coyote we got."
Pennsylvania coyote calling sounds.
Dane Kitner is part of KeyStone Predator Management. Dane removes livestock killers from farms and ranches and he can't afford to sit on empty stands all night.
Dane recommends using https://predatortactics.us sounds, especially his favorites ACE 'N' ANN PAIR (2-Year-old male & female coyotes pair howls) and BO 'N' EVE PAIR (Young male and young female coyotes pair howling).
According to Dane, "It seems like every time I need to get them going, I hit one of those two, and they just light up."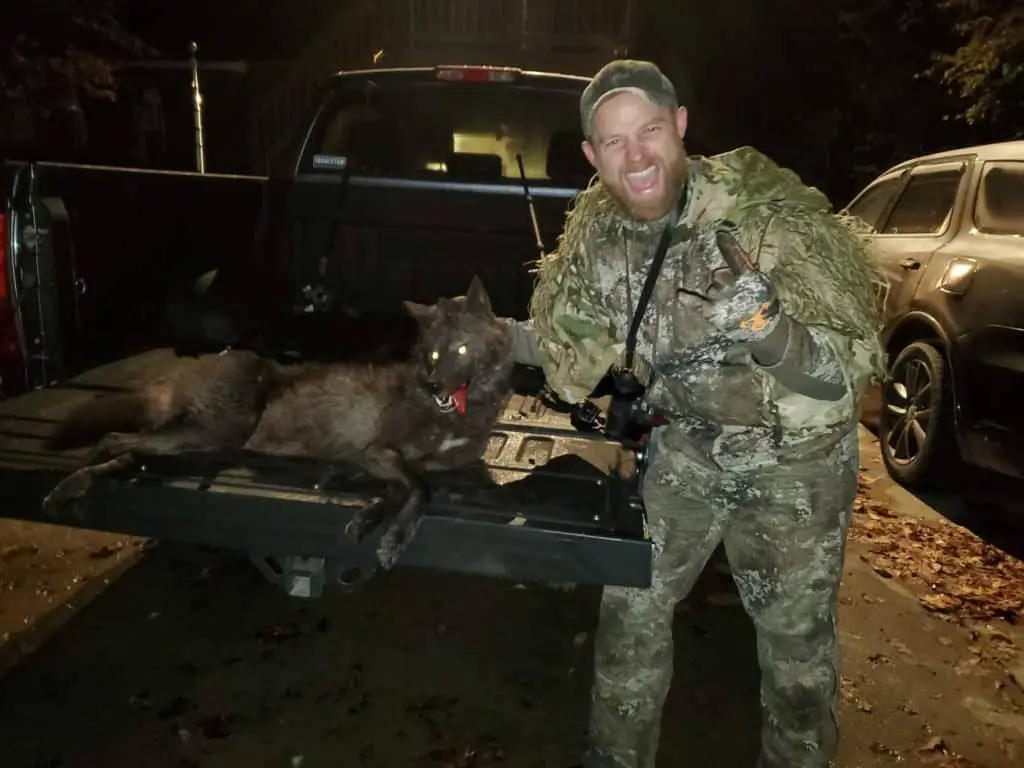 Bryan Mealy of https://www.everythingpredator.com and Keystone Predator Management recommends something a bit different from his partner Dane Kitner.
"Keep it simple. Vocals in the Summer, territorial calls in the Fall, prey distress in the Winter, and pups in the Spring. Remember, when calling, always tell a story."
Related: https://thepredatorhunter.com/keep-them-interested-how-to-really-call-in-coyotes/.
Calling coyotes in Missouri.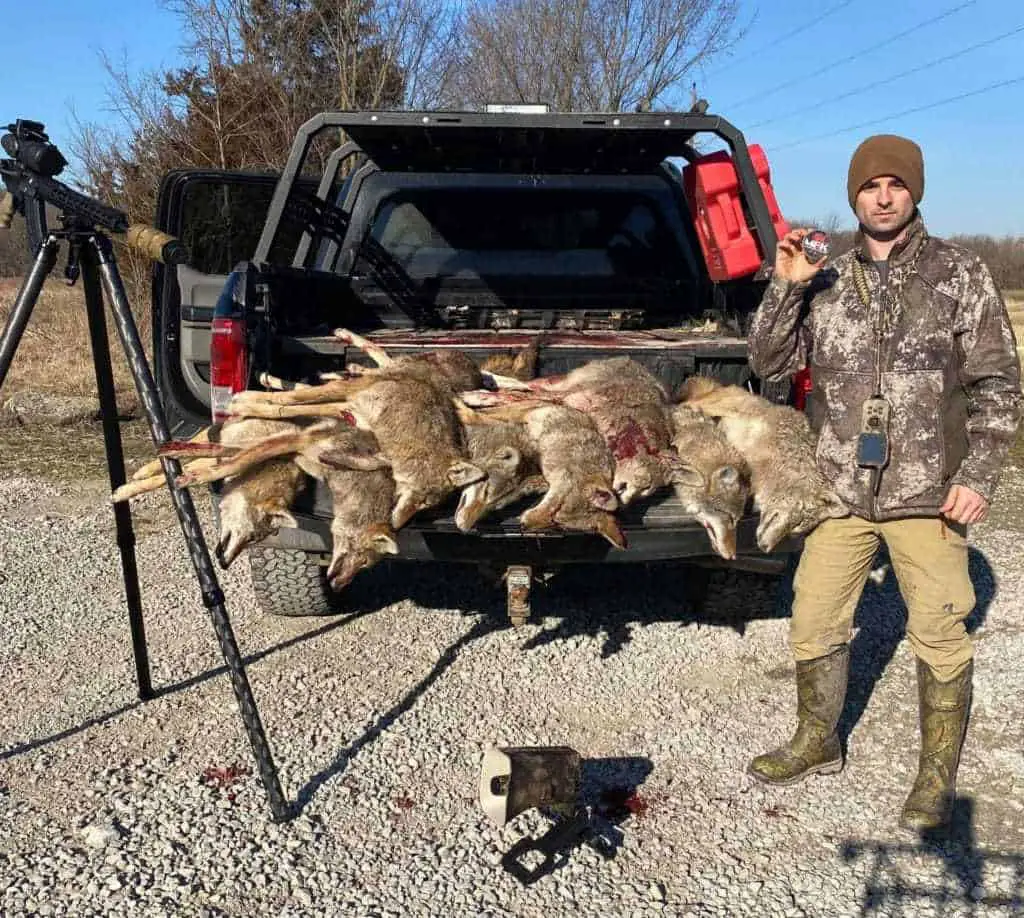 Mike took these coyotes in central Missouri.
Mike tells us, "I used an MFK Edition Foxpro X2S and the MFK Coy Fem Inv. Howls and MFK Bump and Grind (breeding sounds). I used those two coyote vocalizations to kill around 30 coyotes from Jan-Mar."
Michigan coyote calling sounds.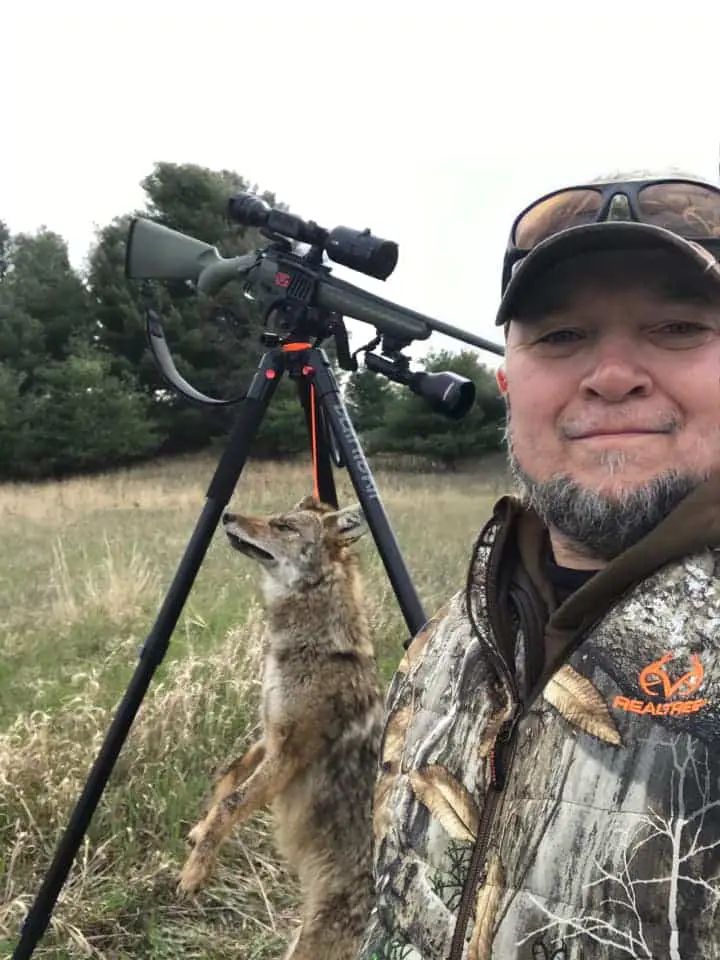 Wade Schmidt is an old U. S. Marine, so he's got the marksmanship skills for putting a round through a 4" inch target at over 100 yards.
He also recommends Tony Tebe's Den Raid. "This is my go to call when they're not responding to prey distress. That's what sealed the deal on this female."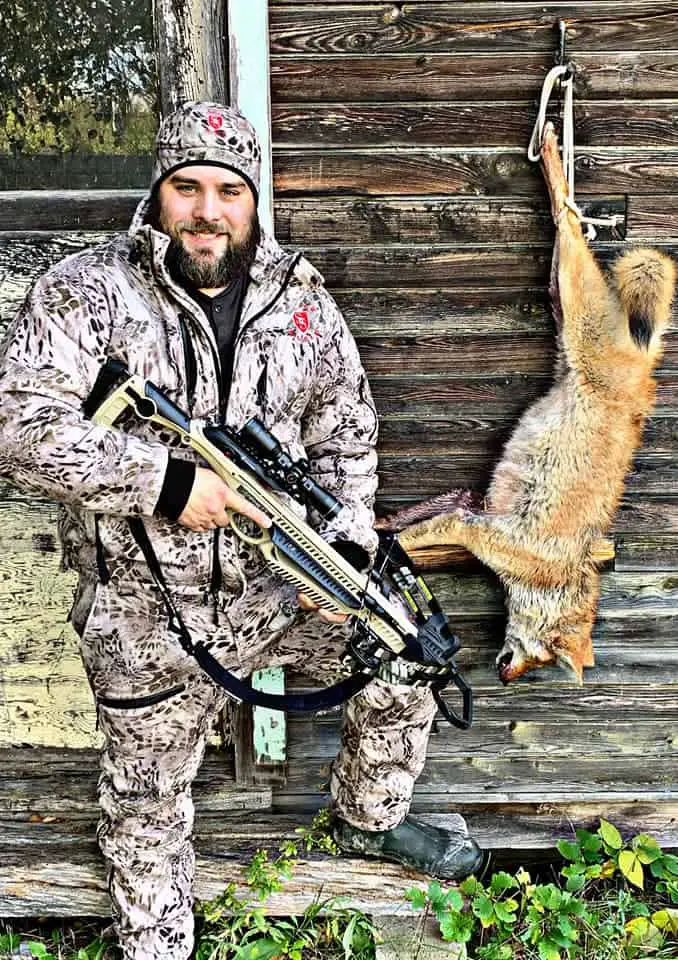 Matthew Schalk takes a lot of coyotes, but he was deer hunting when he took this coyote—with a Crossbow. Here's how he did it.
"Right at about first light, I saw two coyotes out mousing in the field. I started to lip squeak, hoping they could hear me. The blonde female closed the distance and offered me a shot at 25 yards."
Matt admits, "Shooting a coyote with archery tackle was a bucket list item for me." Mine too, Matt. Mine too.
Kansas coyote calling sounds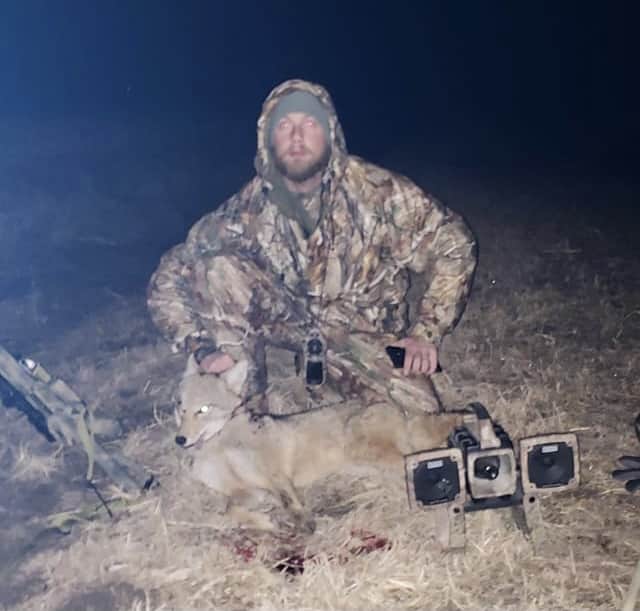 Cody Jacobs hunts coyotes in Kansas, and from the looks of it, he hunts them alone. That's how most of us predator hunt, I'm sure you will too.
Cody tells us, "I always start with some type of invitation or interrogation howl, and wait and listen. Then, once I get them interested and move towards my area, I switch to a low-volume distress call. I'll play that on and off for about 15 minutes.
After that, I'll switch to a KiYi (coyote distress) on and off for the last 5 min. I use an old Alpha Dogg caller I got from a buddy. It seems to work just fine.
I always use the wind and I always wait until they are within 100 yards."
North Carolina coyote calling sounds.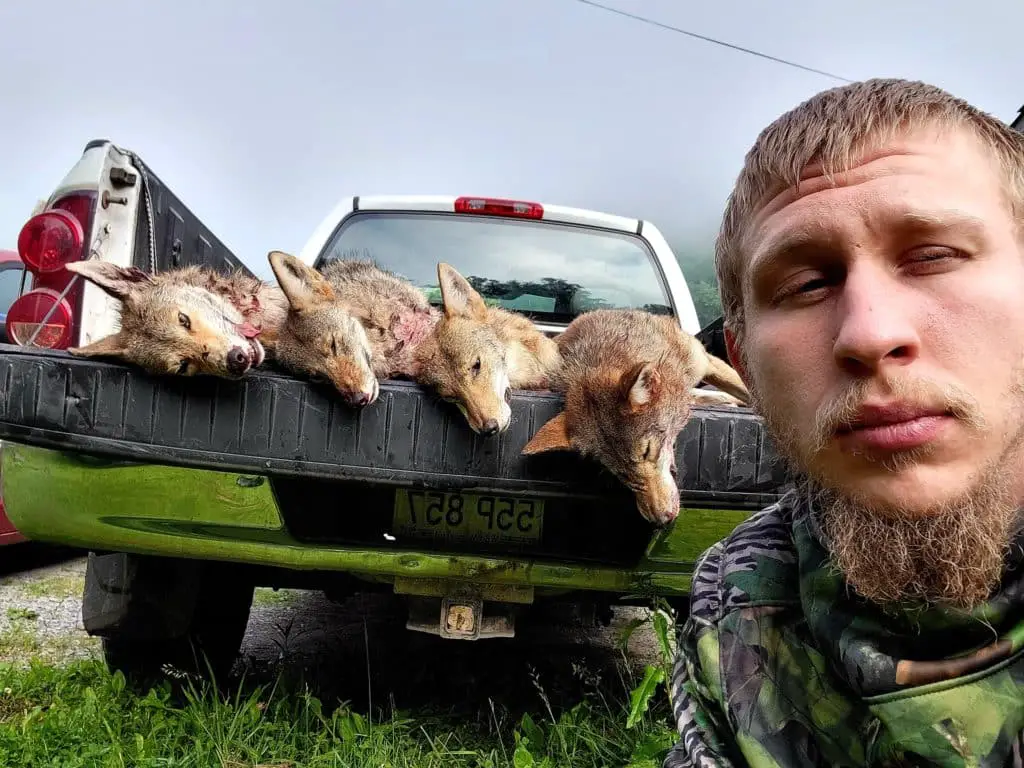 Casey Wood is an administrator of the Coal Country Killers and he invites you to stop in and look around.
Until then he recommends two MFK FoxPro calls: "Hello howls" to locate them, and then "Pound Town" to seal the deal.
Calling coyotes with the Pinoy Piper Predator caller.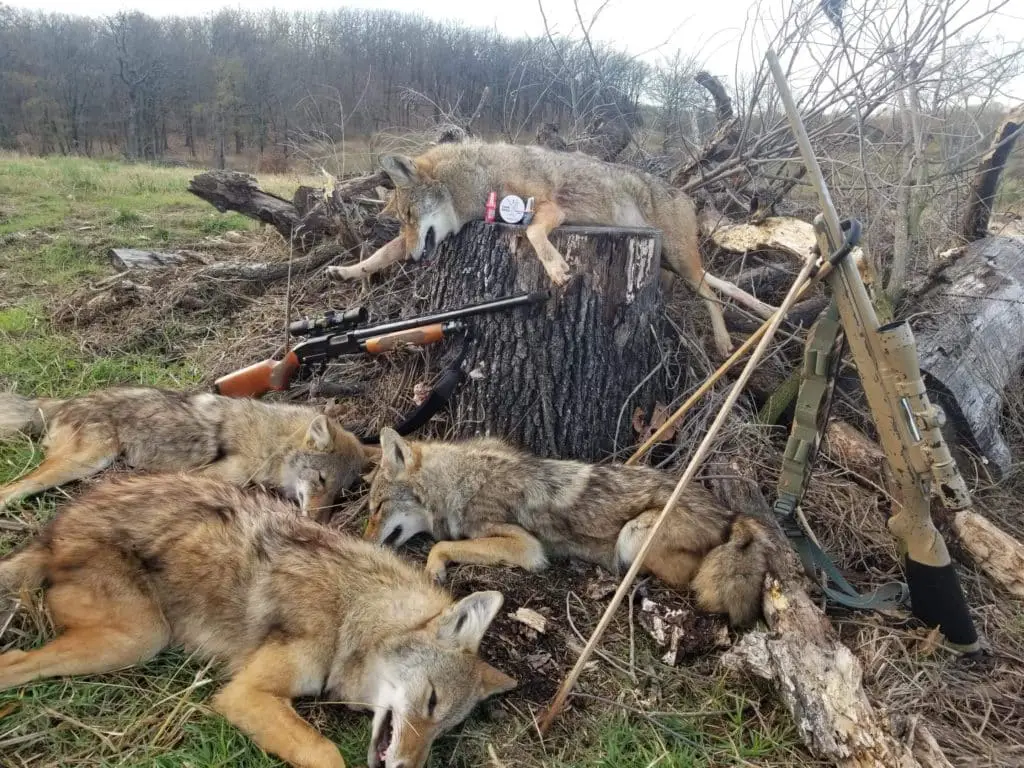 Mr. Alzate is the owner of https://pinoypiperpredatorcalls.com. He manufactures both predator diaphragm and hand calls. His picture is proof that you don't really need to spend a lot of money on an electronic caller.
Author's note: None of the websites linked in this article paid me and I receive no commission if you use a link to make a purchase.To find out what has already been paid for you, check out this verse: https://biblehub.com/john/3-36.htm.
Calling coyotes in New York.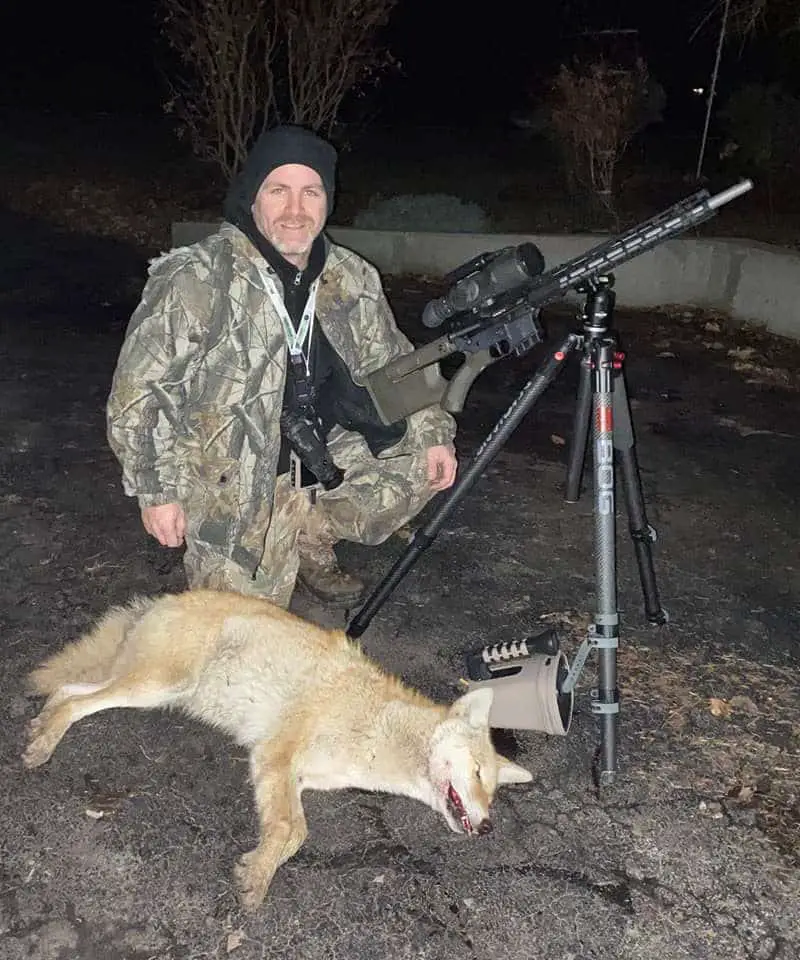 Jeffrey Barker is the owner of www.BarkerOutdoors.com, a thermal optics and accessories store.
Jeffrey told us how he got this coyote, "This beautiful blonde female came in perfectly to a pup distress call. At about 150 she stood up and that was it. Lights out. The 204 is topped with a Nvision Halo LR!"
Jeffrey's physical store is located at 105 Lockport St, Youngstown, New York. If you ever find yourself visiting Niagara Falls, bring the new spouse in to Barker Outdoors and have them pick out another wedding gift for you.
Iowa coyote calling sounds.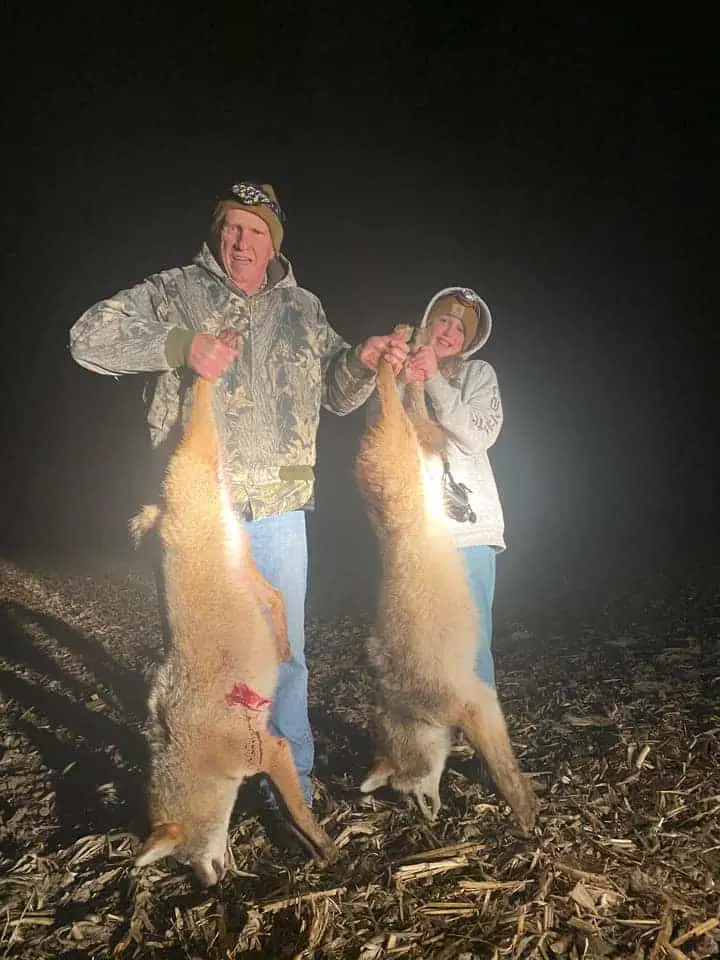 Nathan Owen sent us this picture of his father and daughter scoring a double.
Nathan's advice? "I usually always open a stand with coyote vocals. Usually, start with a female invitation, then wait a minute or so. If nothing responds, I will answer with a young male howl."
"These two responded within 4 minutes. Pup distress made them seal the deal, putting them at around 100 yards for their first double together. Pretty special night for us all."
The most used coyote calling sounds for this group?
A quick thanks to all of our contributors!
And if I counted right, the winners were female invitational howls and some form of pup distress calls.
Could those be the calls your buddies us as their favorite coyote calling sounds?
Give them a try tonight, and let us know if they worked for you.